peace and unconditional rEvolutionary matriarchal maroon love comp@s 
thank you for being a part of the maroon liberation school providing rEvolutionary praxis every maroon monday. after this week our future school communique will be exclusive for those participating within the maroon liberation school, all are welcome to register and join for season 4 which will resume after Black August in a different capacity. we will send general updates via maroonparty through this method moving forward a few times a month. 
BLACK AUGUST 1st communique #1 
scroll down below after communique for Black August Film Series every maroon monday.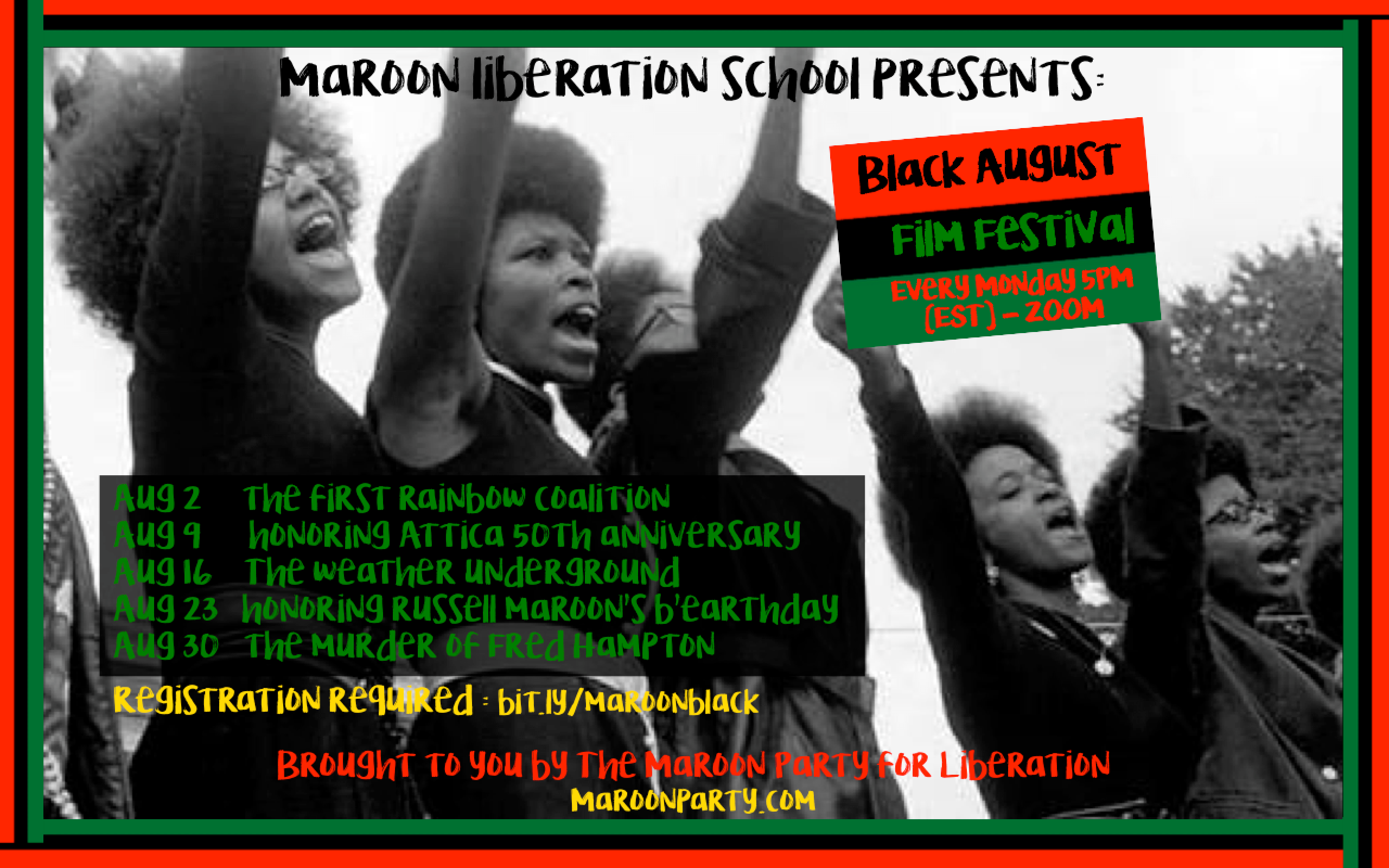 reading prep black august political education
black august 
communique black august 1st 
remember not to forget. every day we remember not to forget. during the month of black august we concentrate and contribute towards this process of continuing a tradition of honoring our freedom warriors, victories, sacrifice and legacy.  "they can jail a revolutionary, but can't jail the revolution" -Huey Newton. "you can kill a revolutionary, but you can never kill the revolution" – Fred Hampton 
during the month of black august we fast, regroup, recenter, rejuvenate, reassess, revolutionize, remember, reignite, reawaken, revive, reconcile… from sun up to sun down or 8am to 8pm we eat nothing but knowledge, we exercise, we cleanse our bodies, we talk less to listen more, we study, we grow, we heal, we honor, we pour intentional libations for each day of remembrance and significance. we drink water. lots. to nourish and strengthen the soul with this powerful element. we do not intake anything toxic (drugs, alcohol etc). 
we always say, if you are unable to join in this ritual as stated above you can still give up something during the month (sugar, coffee, sweets, cigarettes etc). its not how much or what you sacrifice, its the intention of your efforts and acknowledgements during the process. some of our elders are requesting that we all fast on August 21st to honor George Jackson. 
so the maroon party for liberation born from a new black arts movement invites you to join us for this black august to remember not to forget and keep the spirit of our ancestors and those behind enemy lines and exiled front and center of our minds and actions. below you will find a packet from MXGM that gives outlined dates of significance and purpose behind the month of black august. 
we are revolutionaries because we love our people. we do this out of love and for the love of our people. for the liberation of our minds, bodies and souls from oppression and because we know another world is not only possible but happening throughout the continents. we have seen our communities throughout the world and know we are aligned with purpose and we are divine. we have seen our resilience throughout continents and know they cannot kill the spirit of our souls, the legacy of our blood. they jail us because they want to control us. they kill us because they fear us. remember not to forget an us before there was a them. remember who they are. remember we are not them. remember. 
Black August videos below produced by the maroon party for liberation, from the people, by the people, for the people 
gator bait a dissertation of the souls of black folx by spiritchild 
the maroon party for liberation black August 2021 
a letter from Assata http://www.thetalkingdrum.com/tmp.html 
you can download the below packet of information via this link here 
black august political education 
maroon monday's liberation school black august calendar 
WE are OPENING OUR DOORS once again!  Last summer the world was on fire for radical anti-racist change, let us keep the fire going until all are free, body, mind and soul. 
We are hosting a Film Festival on multiple angles of Black Liberation every Monday in Black August at 5pm EST 
Aug 2 the first rainbow coalition 
Aug 9 honoring Attica's 50th anniversary 
Aug 16 the weather underground 
Aug 23 shorts to honor Russell Harun-Maroon Shoatz's b'earthday 
Aug 30 the murder of Fred Hampton 
We will kick off our Black August series with the incredibly fitting documentary on the original Rainbow Coalition. From the youth we work with, to the mentors that inspire them, to the elders that guide us all, we are held by a rainbow of revolutionary souls! As Fred Hampton taught us, we are more powerful together. 
The maroon liberation school is also cooking up a virtual honoring of Russell Maroon Shoatz with video shorts and scientific soul on his 78th birthday, 8/23, like the rest of the "Maroon Mondays" it will be between 5-7pm EST with special guests and new releases! 
register for the Film Festival : https://bit.ly/maroonblack (doors are by donation, please give as able so we can continue our work, no one turned away.) 
Come for all 5 or pop in when you are "down off the mountain :)" 
MUCH LOVE!! rosa, spirit, and the UAB maroons 
PS: Click here to give, share or learn more about our youth work this summer. 
_____________________________________________________________________________